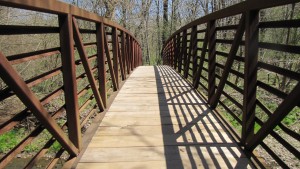 I recently heard about the A to Z Challenge, which started in 2010 with nearly 100 bloggers. As of today, there are 1283 bloggers signed up to participate this year. You can read more about the Challenge's history here. Today is the Theme Reveal Day, when some of the participants have chosen to reveal a central theme for their April blog. I was intrigued by this idea and considered what I would like to write about.  I came up with a few thoughts, and decided on writing about travel.
I caught the travel bug at a young age. Most of my family vacations as a child were road trips (with a cooler of juice, bologna sandwiches and plums from the tree in our yard), sometimes inspired by an article my mom read in a travel magazine, and all were adventures. One summer I kept a scrapbook of our journeys, writing about where we went, what we did and including ticket stubs and brochures from places we went. It is fun to look back at this now to see what made an impression on a younger me.
I have considered travel writing before, but did not see any avenue to share it, other than the big, glossy travel magazines I have long loved to peruse and rip pages from to save for my "vacation file." These magazines often have their own staff and writers who work on assignment. How wonderful would it be to get that sort of assignment! The more I thought about the possibility of sharing travel here, the more excited I got about it.
I have my list, but as my posts aren't written yet, it is still a work in progress. My initial thought was to write about places I want to go. Since I have no appropriate photos or places I have not been, or even stories and observations about these places, I decided to focus on places that I have been and plan to return to. (Besides, that is not really how travel writing works anyway.)Given the constraints of the challenge, however, (remember, this is going from A to Z) I will have to write about some places I have not actually been to.  In these cases, I hope to share information from friends who have been there or my own research about locations on my personal bucket list.
I expect this challenge to be fun and am excited to share some of my photos. I hope you enjoy following along to see the Places I Go!