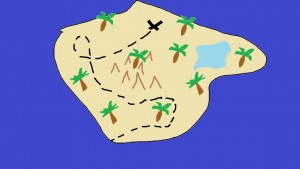 X marks the spot on many maps indicating where pirates buried their treasure. This elusive X has been the subject of many explorations, in books, film and even in real life. While I really have no expectation that I would ever find buried treasure, I do have the desire to go to the type of place that one would typically expect that treasure to be.
Pirates have traveled coastal waters for centuries. There are a number of locations that are known for their shipwrecks. Some of these are because of the weather, but others are because ship have deliberately been sunk by pirates after boarding them and taking anything of worth. The southeastern coast of the United States was known for pirate activity, in fact some of the lighthouses located there were constructed after pirates took advantage of underwater reefs or rocky ledges and lured merchant ships there to run aground.
Another area known for pirate activity is the Caribbean Sea. Hollywood has taken full advantage of the allure of pirates (with the help of some attractive people) with the collection of Pirates of the Caribbean movies. Coincidentally, one place on my travel bucket list, Dominica, is an island which was used to film two of the movies.
Known as the Nature Island, Dominica offers beaches, hiking, waterfalls and a number of jazz and creole festivals. It is largely covered by rain forest and is home to Boiling Lake, the world's second largest hot spring. Unlike many other Caribbean islands, the coasts are not long expanses of white sand, but are instead rocky, with many coves offering glistening volcanic sand.