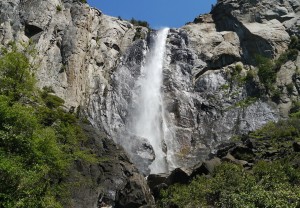 Yosemite National Park, best known for its waterfalls, rock climbing and Giant Sequoias, is a place I have yet to visit. The park covers more than 1100 square acres and its terrain varies throughout the park, with lakes and rivers, meadows and wetlands and towering rock formations. With sections of the park more than 10,000 feet above sea level, weather conditions sometimes make some areas inaccessible.
With over 750 miles of trails, hikers of all abilities have many options to chose from. Those wanting to overnight on the trails must apply for a free permit (there is however  a charge for those hiking to the top of Half Dome). This is done to limit the number of people present at any one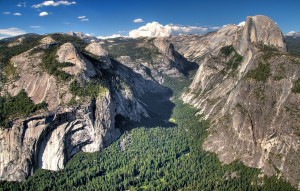 time in order to protect and preserve the park's resources and to maintain the atmosphere of solitude that draws so many to visit. 60 percent of these permits can be reserved in advance. The park has descriptions of the trails including distance and difficulty on its website. It also has a "Things to remember when hiking" section to help minimize the chance that the park's Search and Rescue Team will need to be sent out for you.
Bikes can be rented in Yosemite Valley and can be used on 12 miles of paved bike paths as well as park roads. Though bicycles are not permitted on the trails, horses are and a local stable offers guided mule and horse rides in the park.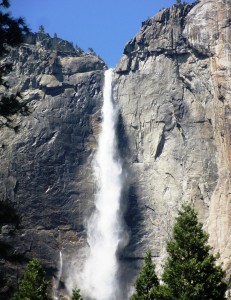 Rock climbing is a popular activity; Yosemite is known as one of the best locations in the world. The park also provides boaters with a number of opportunities. Canoes, kayaks and white water rafts are permitted on many of the park's rivers and lakes. The website lists regulations and ratings, which range from easy Class I water to advanced Class IV.
Bus tours ranging from 2 hours to all day are available, conditions permitting. If you prefer a self-guided tour, the 39-mile Tioga Road is a scenic drive through the park; park stores have several maps and guidebooks available to purchase that provide information on what to see and do as well as history and stories of the park. Yosemite has over 60 properties on the National Historic Register, including some of the oldest on the list, dating back to the mid 1800s.
Like many National Parks, there is an entrance fee, at Yosemite the fee is determined by your method of entry (car,motorcycle, bike, horse, foot or commercial vehicle) and the basic pass is good for seven days.
Camping is available in the park, but campsites not reserved in advance tend to fill up by early afternoon. There are also a number of hotels, private campgrounds and bed and breakfasts outside of the park.