Sharing the Passion (or Just Going Along for the Ride)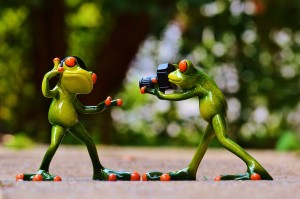 All of us have something that we are passionate about. It can be a job or a hobby; something we do or something we watch others do. As with so many things in life, passions are just more fun when you share them with someone. Shared passions are frequently the "Aha!" moment when you realize that the person you are talking to will become a long-term presence in your life.
I have discovered that it is not necessary to have the same level of passion as the other person for an activity.  When you already have a deep affection for someone, it can be rewarding simply to observe and acknowledge their passion.
Having four children, I have most often experienced this through them. They are four very different individuals, and though they share some interests, they all have things specific to them. I am thankful that they invited me along for the ride; for I believe it has enriched my life as well. Because of them, I have learned a great deal about Marching Band, Jazz Band and Color Guard competitions (and discovered that these are activities that one can continue for much of one's life). I have increased my knowledge of theater and the backstage activities that make the magic happen onstage. I have learned about costuming: time periods of clothing and accessories, how to make a large man's suit fit a 6th grader, how to take pieces of two different dresses and turn it into one that "works" for the show, how to use trim to dress up an otherwise plain dress (and do it in duplicate) and how to turn bedsheets into choir gowns. I have learned bits of German and French and am learning that vocal music also has its own extensive language (which, I am embarrassed to admit, confuses me a bit). I have learned basic ballet positions and about more modern dance styles. I have learned a great deal about showing dogs and the Seeing Eye dog program, as well as dog trivia and other ways dogs and people work together. I have learned to kayak, zip line, rock climb and raft. I am confident in my outdoor skills (at least in normal conditions) and have learned what to look for in hiking boots and other outdoor gear.
Sharing their passions has made us closer. We have shared experiences, spent time together and I have a better understanding/appreciation of what they are talking about. I have been privileged to catch a glimpse of who they are as individuals, who their friends are and how they interact (which is both similar and very different from the ways I interacted with friends when I was their age).
In some cases, I have discovered some passions of my own (two examples are kayaking and costuming). Where they have shown an interest, I have shared some of my passions with them as well.
I love history. My kids have mixed interest, ranging from tolerance, to slight interest, to full blown passion. Family vacations have been known to include a museum (or two or three) where we have learned about the area's history together. Though I have not been actively researching lately, I have been working on family history for several years. Though there is no apparent enthusiasm at the prospect of joining me in a National Archives trip, they are interested in family stories and sometimes enjoy hearing about the results of my research.
I love books. Fortunately, all of the kids do too. Bookstores and libraries are acceptable places to go.  Author lectures and book signings are a worthwhile use of time. My occasional opportunities to rub elbows with young adult novelists are greatly envied and a box of books labelled "free" is usually a must-stop for browsing.
I love learning. Though they will not always admit it, my kids also enjoy learning. I have even witnessed them having fun learning about things they thought they had no interest in. They have been fortunate to have people in their lives (extended family, teachers, neighbors, club and scout leaders, to mention a few) who have fostered this enthusiasm for learning and given them the tools and opportunities to learn more.
I love the outdoors. Again, the interest here is not shared wholeheartedly by all, but they are willing to live in the outdoors with me on the occasional weekend and explore areas on foot. Depending on the type of boat, I also have ready company when I want to be on the water.
It likely warrants a post of its own, but the concept of sharing passions is also true for other relationships. Obviously, romantic relationships thrive on shared passions, but I believe these relationships are also enriched when one partner shares his/her passion with the other. Trying new things usually results in growth as a person and sharing a piece of yourself helps others know more about the real you. Even when one partner ends up not sharing the love of an activity, it opens a window to better understand the other person. No matter how well you know someone, there is always something new to learn about him or her. You don't have to ultimately share all interests, but recognizing and accepting your partner's interests (and his or her individuality) helps in conversation and shows that you care. Friendships are enriched by such sharing as well. Many things in life require company or are just more fun when shared with another. Being willing to go along for the ride is a wonderful gift to give or receive. Trying something new, just because someone else enjoys it is a learning experience and can lead to some great stories, too!
Related posts: