You Know Fun Is Ahead When You Spot the Ferris Wheel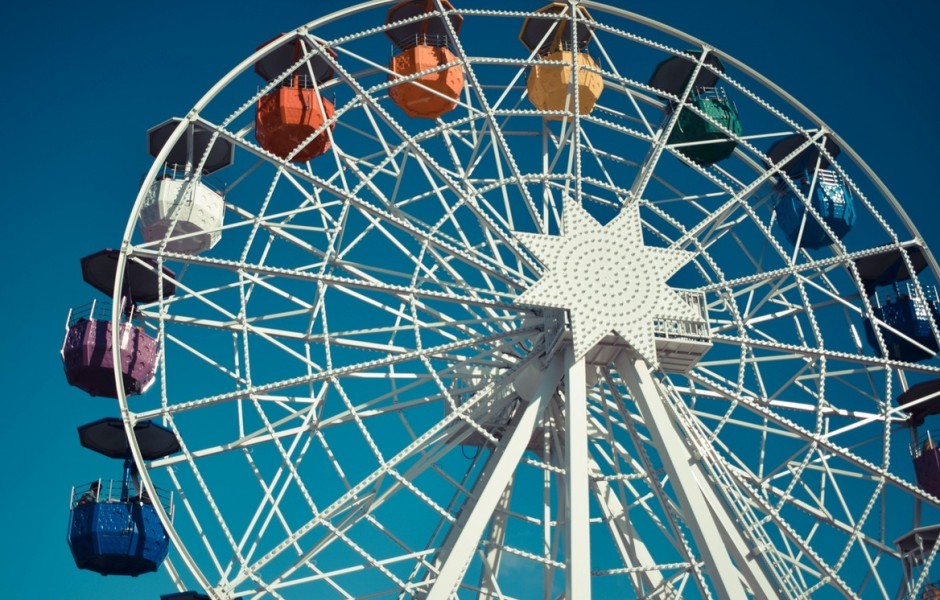 Carnival season is upon us and soon we will be seeing pop-up amusement centers in parking lots and the strange sight of rides on trailers on highways. Most prominent of these of course is the Ferris wheel, which in most cases can be seen for miles and is the first sign of a carnival in progress.
Personally, I am not a big fan of this ride. In fact, I refuse to go on them at all. I blame my uncle for my phobia; he thought it was great fun to make the car sway wildly when it was stopped at the top, inspiring sheer terror in me. It is not the height I fear, however, as I had the same reaction on a grocery store version standing only 5 foot tall, but it is a fear over which I have no control. I will however admire them from the ground. The architectural and engineering accomplishment that has gone into their impressive size demands a level of respect.
It was no surprise to me to learn that the origin of this towering ride was the 1893 Chicago World's Fair. These expositions were known to inspire their organizers to top that of their predecessors, in size and novelty.  They were extravagant and showy, meant to showcase the host cities and inspire awe. Inventors of all types were inspired to come up with something new to debut at the fair.
Challenged by Daniel Burnham, the architect for the 1893 World's Columbian Exposition in Chicago, to come up with something grand to rival the new Eiffel Tower in Paris, Pittsburgh engineer George Washington Gale Ferris Jr. presented the concept. As a child, he had been fascinated by a water wheel on the Carson River when his family lived in Nevada. He had wondered what it would be like to ride in one of the buckets. Though 50-foot wooden versions were already entertaining patrons in seaside towns in the Northeastern U.S. (already patented with the name roundabout), Ferris was thinking bigger, 200 feet bigger in fact, and used his own money to fund studies and pay more engineers. His work paid off and his wheel was chosen for the Expo, provided he fund it himself.
The steel Ferris wheel was created from more than 100,000 parts, which came from more than nine steel mills in five cities and three states. The 89,320-pound axle, built by Bethlehem Iron Company in Bethlehem Pennsylvania, was mounted on two 140-foot tall towers. During the 19 weeks it was operating, more than 1.4 million people took the 20-minute ride for 50 cents apiece. The ride stood 264 feet tall, and was composed of 36 glass and steel cars, each the size of a railroad car. According to ExplorePAhistory.com, which details the background of the blue historical markers found throughout the state, the cars each held 40 comfortable swivel chairs, so that the ride could serve 2,160 passengers at a time. Ferris built a power plant to turn the wheel, from two 1,000-horsepower reversible engines (one was an emergency backup). A 20,000-pound sprocket chain was used to turn the wheel. From the top, on a clear day, riders were able to see three states.
Despite the fact that the popular ride had turned a profit, the wheel contributed to its creator's demise. Ferris had legal troubles related to its construction and patent issues and went bankrupt.  Not long after, he died, at age 37, reportedly from typhoid fever. The wheel was sold to the 1904 Louisiana Purchase Exposition in St Louis, where it was enjoyed by another 3 million adventurers. Two years later, with local residents complaining about what some called an "eyesore," the wheel was dynamited into scrap metal and used as landfill.
Though the original Ferris Wheel was gone, there were more to come. William Sullivan, an engineer from Roodhouse Illinois took a ride on the original Ferris Wheel and was determined to build his own.  Collaborating with James H. Clements, he had success and the company's first wheel debuted in Jacksonville, Illinois in 1900. His Eli Bridge Company, which expanded to include other amusement rides is still family-owned and  -operated and is the oldest Ferris Wheel manufacturer still in operation today.
The ride continued to gain in popularity and has seen slight alterations and ever-increasing height. With ridership assured, now there are even more manufacturers. Observation Wheel Directory lists 11 such companies as well as "a complete list of Ferris Wheels around the world, including defunct Ferris Wheels," and a timeline of patents for both observation and Ferris Wheels (though even they admit the distinction between the two is slight). Ferris was unable to benefit from his design, but his name lives on in these towering marvels of art, architecture and engineering.
Save