Hula Hooping: How to Play Like an Egyptian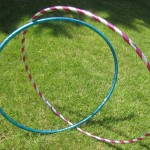 May 27, 2016
history of things
,
summer fun
ancient Greece
,
Australia. Great Britain
,
Egypt
,
history
,
hula hoop
,
Michelle Obama
,
Native American
,
toy
,
White House
Standard
The hula hoop is a deceptively simple device that has remained popular for centuries. It has been used as a toy, exercise device and a tool to learn life skills.
As early as 1000 BC, Egyptian children used hoops made of grapevines to play, either rolling them with a stick or spinning them around their waists. The hoop also played a role in ancient Greece, though hoop rolling, often using a stick, was more commonly depicted in art of that time than waist hooping. There, it was used as a form of exercise as well as in competition.
By the 14th Century, hoops were being twirled about the waist as a pastime in Great Britain. This is evidenced through medical records that indicated dislocated backs and heart attacks due to hooping. Centuries later, the term "hula hoop" came from British sailors who had been to Hawaii and seen hula dancers. The hip movements used in the dance were similar to those used while playing with the hoops back home.
Native American hoop dancing, a form of storytelling, dates back to the 1400s. The hoops represent the circle of life and how all life is connected. They also used hoops in games deigned to improve accuracy in throwing spears and shooting arrows.
The 1950s hula hoop craze can be traced to Australia. One source claims that a school teacher there taught her students to waist hoop. Coles department store then began selling the hoops, but they could not keep up with the demand, so Alex Tolmer of Toltoys was asked to mass produce them. He created them from a new substance, polyethylene plastic, and sold 400K in 1957, primarily as toys for children.
The founders of the Wham-O Company (which began in 1948 as a provider of slingshots) heard about hula hoops from an Australian visitor and started to manufacture and sell their own. Though they could not patent the hoop itself, they were able to trademark "Hula Hoop" in the U.S. They initially gave the toys out for free and demonstrated their use on playgrounds in Southern California. The toy quickly caught on, and with a selling price of $1.98, sales were steady through the fall. A segment on the Dinah Shore Show resulted in another boost to sales for a total of about 100 million in 1958. Like all fads, the demand eventually subsided. The company added ball bearings to create noise, and the hoop re-emerged as a popular plaything in 1965, so much so that a National Hula-Hoop Contest began and ran from 1968-1981.
Over the years, Hula Hoops found new fans. They became featured in acts in circuses and other shows. In the 1990s, adult-sized versions appeared at dance events, their use now referred to as "hoop dancing" to indicate that this was something new.
Hula Hoops have also now been reintroduced into the fitness arena, with classes in gyms across the U.S. (They had been used in fitness programs in Britain and Australia in the 1930s and 1940s.) Modern versions are sometimes filled with water or sand to increase the workout.  In 2009, First Lady Michelle Obama was photographed at her Healthy Kid's Fair  demonstrating her Hula Hoop skills on the South Lawn of the White House. The hoops can be a great source of imaginative play and also can be used to create obstacle courses and in team building. Sometimes simple is best.
Save