Who Knew? Mini Golf Originated During the Great Depression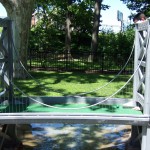 The weather is warming up, which means that the miniature golf courses in the Northeast will soon open for the season. Mini golf is something I enjoyed as a child and shared with my own children. It is an activity that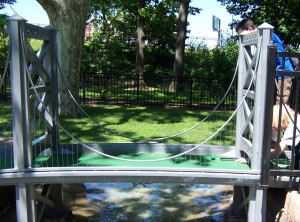 almost anyone can participate in and can vary quite a bit from course to course. Driving past one course last weekend got me to wondering how mini golf came about, so I did a little research. My guess was that it was designed as a practice area for golf. As it turns out, this was not the case.
It seems to be widely accepted that the Ladies' Putting Club in St. Andrews, Scotland can be considered the oldest course. Formed in 1867, the highlight of the club is the 18-hole Himalayas putting green. It was designed to accommodate women (since, at the time, it was inappropriate for a woman to swing a club beyond her shoulder) and involved only the putter and a short driver. The courses were shorter than regulation golf courses, but maintained the same look and feel, with hills, forests, traps and ponds.
In 1916, James Barber of Pinehurst, North Carolina installed a miniature golf course on his estate to entertain his guests; his design included walkways, and incorporated fountains, shrubs and flowers. It is said the name came from an offhand comment about the design, it was said "This'll do" which became Thistle Dhu. His intent was to simply to create a smaller golf course, with the longest hole at 71 feet and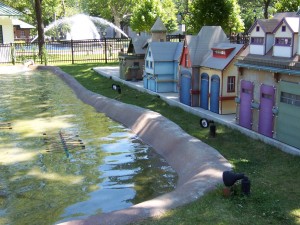 the shortest, 12. In 1919, the Wentague Country Club held an "obstacle golf course tournament" and a similar competition occurred in Pasadena and it appeared the trend to miniaturize the sport of golf was going to take off.
In 1922, Thomas McCulloch Fairborn created and patented a surface made from crushed cottonseed hulls, dyed green on a sand foundation to simulate the greens of a golf course on his land in Mexico, which was too dry to grow actual grass. This would become the foundation of miniature golf courses around the country.
Garnet Carter was the first to patent a game of miniature golf in 1927. Carter's fairytale-themed course, on Lookout Mountain in Tennessee, was called "Tom Thumb Golf" and was the beginning of the themed courses we know today. Designed by his wife Frieda, this expanded into a franchise which totaled over 3000 by 1930. Many other entrepreneurs followed suit and there were an estimated 25,000 courses in the U.S in the early 1930s. Mini golf was so popular that in 1930, a National Tom Thumb Championship was held at the Lookout Mountain course, with a first prize of $200 was awarded from both Ladies' and Gentlemen's tournaments.
In 1926, Drake Delanoy and John Ledbetter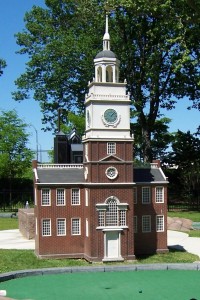 created New York City's first outdoor course on top of a skyscraper and then added over 150 more throughout the city. It seems that this is where Fairborn's artificial grass became a common component of the quickly-growing pastime.
The year 1930 appears to have been the heyday of mini golf. It is estimated that 50,000 courses were built that year and tournaments offered large cash prizes, radios, watches and even a car. Snack bars and cafes were built adjacent to courses. In Southern California, courses popped up alongside service stations, so you could gas up or have your car washed and play a game of golf while you were there.
Tight budgets during the Great Depression led to some innovative designs, using whatever was lying around, and the need to attract people to the game led to added features, such as the loop-di-loop. The lighthearted fantasy world created in these courses helped to counteract the prevalent mood of the nation and since mini-golf was sometimes cheaper than seeing a movie, it was for many an affordable pastime. Courses moved indoors and became minimalistic. As the country came out of the Great Depression, the popularity of mini golf declined and it was less profitable.
Though the numbers declined, mini golf was here for good. Don Clayton, the founder of Putt Putt Golf and Games thought of miniature golf as being a more serious sport than it had been treated as and designed courses in 1953 with straight putts. In 1955, Al Lomma began the trend in mini golf courses of having mechanical hazards with moving parts, like rotating windmills. This trend is one that has stuck.
The second half of the 20th century, brought a resurgence in popularity, partly due to the use of automobiles and a new way of vacationing. Highways began to sport huge oddities to attract attention, and mini golf was renamed things such as goofy golf, crazy golf and wacky golf. Large structures modeled after famous sites from faraway lands, such as the Sphinx, the Great Wall or pyramids became common and even expected.
Junglegolf, created by James Bryan and Al Tirrell of Myrtle Beach in the 1970s, utilized extensive landscaping and waterfalls. Myrtle Beach, considered by some to be the world capital of mini golf, with 45 courses at one time within a 20 mile radius of the town. Even today, there are enough options to warrant a "Top Ten" list.