Free Online Resources to Help Families During COVID19 Outbreak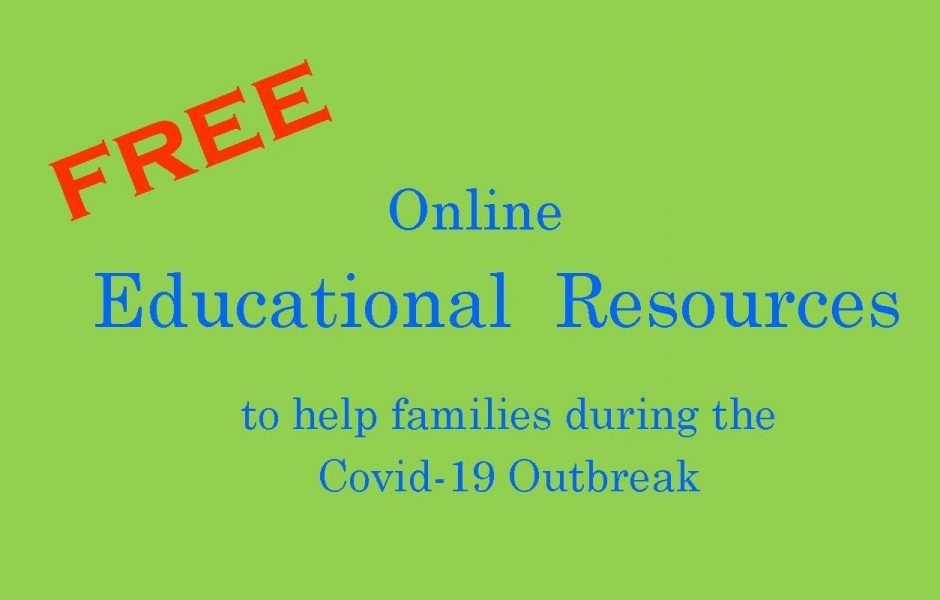 Updated April 9, 2020
It's true that people step up during trying times. It has been heartening to see how many people have come forward, offering free resources to help parents faced with an unexpected (and undetermined) period of homeschooling. I've been sharing many of these on social media, but thought it might be useful to get them all in one place. Here, I've compiled those I've come across, broken down by topic. I'll be back to add more as I can. Note that some of these are always available for free, others are free during this health crisis.
I also suggest visiting your kids' favorite authors' websites and social media channels. Many authors are offering videos, read-alouds, craft ideas, mini lessons or opportunities to ask questions. Some are encouraging kids to write and submit poems, stories, jokes or book reviews, some of which may be selected to be shared by authors.
General educational resources
Check your local library's website to see what ebooks they have available.
Education Companies offering free subscriptions (from KidsActivities.com)
Amazing Educational Resources (Facebook page)
Virtual School Activities (a crowd-sourced list)
Center for Interactive Learning and Collaboration (core curriculum for grades K-6)
Math
Resources from Bored Teachers
Math Activities from MathCoachCorner
Math Worksheets for all levels
Science
NASA's collection of images, audio, and video
Access Mars (with NASA's Curiosity Rover)
2 weeks of fun science experiments
Franklin Institute Interactive Activities
Wall of Birds (Cornell Lab of Ornithology)
eBird Essentials  (Cornell Lab of Ornithology)
Bird Academy Videos (Cornell Lab of Ornithology)
Midwest Archeological Center – NPS
Kennedy Space Center Educator Resources (also check their Facebook page for educational live streams)
Listening to Waves (Sound and Music)
Ocean Literacy Course from Ocean First Education
Smithsonian Air and Space Museum – podcasts, videos, and online activities
NatGeo@Home Activities, lessons and broadcasts from scientists in the field
ecoEXPLORE (Experiences Promoting Learning Outdoors for Research and Education) is an incentive-based citizen science program for children in grades K-8.
Ranger Rick magazine
Zoo livestreams
Cincinnati Zoo Home Safari Facebook lives
Elmwood Park Zoo School Live (Facebook)
Bubby's Club at Elmwood Park Zoo
National Aquarium (Baltimore)
Agriculture
Also check your local 4-H or State Cooperative Agency
Canadian farm tour
Language Arts
Mims House Free eboks
Libby free ebooks (app)
Madeline Editions free ebooks
Audible Stories (select list of free titles)
Young Writer's Blueprint writing course for ages 6-10
Additional Resources from the KidLit Community
A blog post with great ideas to get your kids writing
At Home with Kwame Alexander Free Writing, Reading, and Learning Resources for Students (and Their Teachers)!
Online collections of children's classics
Simon Kids  – read-alongs and activities from Simon and Schuster
History
Virtual tour of Anne Frank House
Virtual tour of Mount Vernon
Virtual tour of the Statue of Liberty
Virtual tour of Smithsonian Museum of Natural History
History and genealogy from Ancestry
Art
Lunch Doodles with Mo Willems weekdays at 1 pm ET
Art for Kids Hub (YouTube channel)
Free Art Lessons (YouTube)
Art at Home (collection of art resources)
Museums
Virtual tours (over 2500 museums and galleries worldwide)
Performing Arts
Broadway HD – stream Broadway shows (free 7 day trial)
Music
Metropolitan Opera – nightly streams at 7:30 pm ET (available for 20 hours)
Live Virtual Concerts (NPR)
Guitar Lessons from Fender
Outdoors
Nature Science and Outdoor Lessons from Riverbend Environmental Education Center (Gladwyne, PA)
Virtual Travel
The Colosseum (Rome)
Wilson Island (Great Barrier Reef)
Home Ec
Baking tutorials from Bread Ahead (Instagram)
Quilting Tutorials (one free using code IQUILTFREE through June 30, 2020)
Digital Cooking Classes (Delish)
Coloring pages
Stevie Doodles – free coloring pages
Color Our Collections – coloring pages from museums
Wildlife Student Guide (from the PA Game Commission)
Special resources
Speech therapy resources