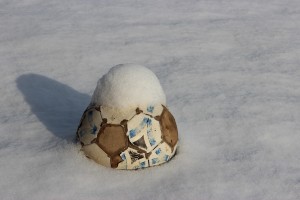 Another milestone has passed. My youngest played in her last soccer game yesterday, a "friendly game" with teams composed of the seniors in the league. As it turned out, her team won – three times. This particular group of kids had no desire to see the end of the season, so after the team won in regular time, they played a "winner take all" overtime: 5 minutes, sudden death. Since they still hadn't had enough, they then proceeded to penalty kicks, with each player taking a kick.
I have been a "soccer mom" for the past 15 or so years, since my second child came home from school with a piece of paper and declared that she wanted to play soccer. She had been kicking a ball around the playground at recess and wanted to be on a team. In the area we live in, soccer is commonplace. Where I grew up, soccer was virtually unheard of. I first encountered the game when I was in sixth grade and my small school got a "real" gym teacher (rather than the parent volunteers we had teaching us before). I quickly decided I liked the game, but played only in gym class. (These were the days that girl sports were limited – largely to basketball and cheerleading.)
Back to 1999 – the soccer sign ups were in the cafeteria of one of the local schools. We walked in, got a form to fill out and waited in line to turn it in. When we finally got to the front of the line, I was asked how I wanted to help. They really needed coaches. Really? Me? Coach a competitive team? I claimed lack of experience. Didn't matter – how about assistant coaching? I was trapped and agreed.
Fortunately, that year all I needed to really do was to be a warm body to help corral 15 or so third grade girls. The following year, I was paired up with a great coach who was very good at mentoring and spent most of the season telling me I could be a head coach. Before I knew it, I became an assistant coach for my son's team as well (I showed up to one of his games wearing my coaching shirt and they quickly asked me to fill in for a game the head coach could not make). Since my daughter's team was older (and parents were getting more competitive), the following year, I stayed with the younger kids and then moved on to coach my youngest for her first couple years as well.
Coaching ended up being challenging, but very rewarding. Trying to convince four and five year olds to take turns and follow rules takes a lot of patience and a great sense of humor. Since my husband was already coaching two baseball/softball teams, I also took on T-ball and softball, which I loved as a kid, but played only in the street (at the time, Little League was still a boys club). Like soccer, it was fun when they were little, but as they got older, the parents sometimes created stress and I relinquished coaching responsibilities to those more experienced and chose areas more suited to my skills to volunteer my time.
It has been more than 10 years since I coached, but I have spent just about every Saturday from Labor Day through Thanksgiving on the soccer field, watching, cheering, and trying to stay warm (and/or dry). Some days we had four games to watch. In recent years, we had two kids on the same team and sometimes another on the sidelines, coaching. Fall weekends have been full, for the most part making one or more trips to and from the soccer fields. What will we do next year?
Although I have loved watching these games, I do have some ideas: leaf peeping, wine tours, road trips, fall festivals… Knowing our kids, though, our soccer days may not be completely over; we may boomerang back to the soccer field, to watch them coach.
Related posts: