The Surprising Relevance of Lady Bird Johnson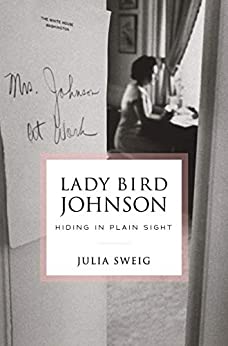 Lady Bird Johnson: Hiding in Plain Sight by Julia Sweig is more than the story of one of America's most influential First Ladies; it also provides a behind-the-scenes view of the Johnson presidency and its role in both the Vietnam conflict and the Civil Rights movement. Covering Johnson's life from birth to death, it largely focuses on her public life which began shortly after she married the man who would become America's 36th president. Using Lady Bird's personal diaries, public letters, interviews, oral histories, and contemporary accounts, the book provides important historical context, revealing events and forces that led to the turbulence of the '60s, and also addresses the changing political winds that shaped the two major political parties into the entities they are today.
Though she was born into wealth on a Texas plantation, Claudia Alta Taylor, dubbed Lady Bird as a child, hardly met the stereotype of a Southern Belle. Shortly after earning a journalism degree, she met Lyndon Baines Johnson. They married after a three-month courtship. From that day forward, she worked to further his career, racking up several "firsts" of her own.  More comfortable in the limelight than Jackie Kennedy, as Second Lady, Lady Bird frequently filled in for the then-First Lady at public events. When Johnson became president, she reinvented the role to suit her own personality and many of her changes remain today. She was the first to work the campaign trail on her own, the first First Lady to hold the Bible during the inauguration ceremony and the first to have her own Chief of Staff and Press Secretary.
Lady Bird Johnson: Hiding in Plain Sight compares Lady Bird's influence to that of Eleanor Roosevelt, but points out that their public personas were quite different. Lady Bird's femininity was unquestioned; she kept much of her activism in the shadows, thereby enhancing her popularity. Despite calls for her to be officially named as Johnson's running mate, (he never appointed a VP while he served the balance of John F. Kennedy's term) the public saw her primarily as a wife and mother. Sweig shows how her femininity was balanced by shrewdness, both in business and her use of the press (surely learned from her days as a journalism student). Lady Bird's careful word choices when it came to her own personal cause – the environment, known publicly as "beautification efforts" – masked some of her progressive efforts in civil rights and social causes. She may be remembered for planting millions of daffodils, but this book makes clear that she also did much more.
It's impossible to not see correlations between the scenes of the '60s that unravel in this book and recent current events. It is said we need to learn from history so as not to repeat it. This book is a an engaging glimpse into the life of one of our most influential First Ladies as well as a palatable history lesson for those who were too young to remember those tumultuous years (or who were otherwise occupied and not paying attention). This seems to be especially relevant today if we are going to take what we learned from our past and use that knowledge moving forward.
Note: Though an advance digital copy of this book was provided free of charge, no compensation was made for this review and the opinions are exclusively mine. KY