Why We Should Just "Wear the Damn Swimsuit"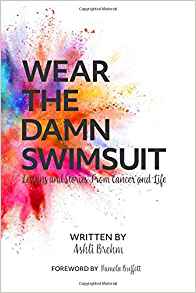 Wear the Damn Swimsuit: Lessons and Stories From Cancer and Life, by Ashli Brehm is an honest, encouraging and often funny account of her life with cancer. Diagnosed with breast cancer at the young age of 33, she recounts her feelings and worries and coping mechanisms in a frank and engaging way.
An accomplished blogger before the diagnosis, Ashli (I'm using her first name rather than the customary last because readers of her blog quickly feel more like friends) continued to write through her treatment, undoubtedly helping many others along the way. Her refrain to "Wear the damn swimsuit" references something many of us can relate to: a reluctance to be seen in public in such a revealing manner, and the realization she came to: such worries steal joy. While she acknowledges that there is a time for pity parties and that it's okay to grumble about the negatives, focusing on the good makes the hard easier.
Cancer has touched most, if not all of our lives. Wear the Damn Swimsuit can help those of us on the outside better understand what life with cancer may be like. A common question: "How can I help? "is addressed and though some may prefer more privacy, Ashli's open attitude throughout the book (and as her blog followers can attest, also through her treatment) can help us better support those undergoing treatment (for example: "Do What You Know How to Do").
The book is refreshingly honest. No topic is taboo. She talks about books, poop and sex. She talks about hopes, fears and dreams. She talks about others who didn't survive their cancer diagnosis.  She tells the story of her BonBoobvage party before her mastectomy and offers details about the planning process for her Foobs (fake boobs).
Not just a cancer survivor's memoir, the book also provides advice on motherhood and marriage we can all take to heart. While not everyone has the stress of an unexpected and major health crisis, every marriage has its own struggles and at some point, parenting is hard for everyone. The lessons she shares point out that while our lives are our own, many experiences are common to us all.
Note: No compensation was made for this review. The opinions are exclusively mine.  KY