Working on the Bucket List, One Event at a Time
Welcome to a Secret Subject Swap. This week 15 brave bloggers picked a secret subject for someone else and were assigned a secret subject to interpret in their own style. Today we are all simultaneously divulging our topics and submitting our posts.
My "Secret Subject" this month was submitted by: http://www.southernbellecharm.com
Name 5 things on your bucket list and why are they there.  Have you done any of them?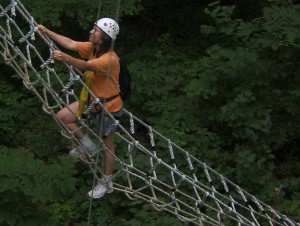 I have a confession. I am addicted to learning and trying new things. I like going to new places for vacation (though there are a few places I would like to revisit) and trying things I have never done before.
I was fortunate for 15 years to be the leader of a Girl Scout troop of older girls, with adventurous spirits. My job was basically to encourage and guide them in their interests, which took me some places I otherwise might not have gone. We started each year with a wish list of what they wanted to do and learn. The activities were diverse. We then went about deciding which options appealed to the group as a whole and which were possible given our budgetary and scheduling constraints. We had one particularly adventurous year in which two of my bucket list items were completed.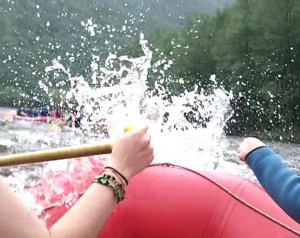 One of these activities was whitewater rafting. I remember seeing ads about rafting trips while I was in college, but the my schedule never worked out that I could go. I had heard stories about rafting from people who didn't enjoy it very much, but it sounded like fun to me. I have long loved being near water and have yet to find a water craft I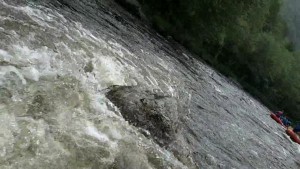 don't enjoy being on. I had previously done some very small rapids in a canoe and loved the feeling of rushing down a river, catching the chute just right. The rafting outfitter we chose was excellent and everyone had a great time. With six people per raft, our group was spread among three rafts. This was so much fun that this became an annual activity for a few years, with our final trip on a "dam release day" which meant higher waters and many people being picked out of the river.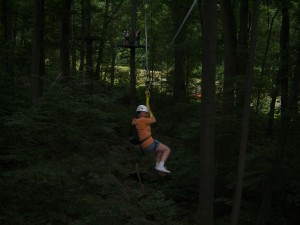 I have always been uncomfortable traveling at great heights along cables in motorized devices. Chair lifts and gondolas scare me; I just don't' feel secure. After trying a rock climbing wall on a school trip with my daughter, I realized that I felt quite secure while wearing a harness and had no difficulty with the heights. Though I realize it makes no logical sense, having myself suspended from a cable sounds safer to me than being in anything else that is suspended by a cable. Riding a zip line sounded like an interesting idea to me and was on
my list of things to do someday, so I was excited when one of the girls suggested it. I looked into it and discovered a small ski mountain near us offered several zip line options over the warmer months. I took a deep breath to ride the chair lift to the top of the mountain (for me the scariest part) and we ran the three hour course, which included walking on cables, standing on narrow platforms surrounding trees and the exhilarating swoosh of zipping down the cable to the next platform. It was an experience I very much want to repeat. This is one activity we skipped on a visit to Kauai, but one I hope to do there at a future date (so, I guess it's still on my bucket list).
Skydiving also came up on our wish list, but that is something that is outside of the safety limits that Girl Scouts would allow. (Having looked into it for myself, it is also outside the limits of what our troop budget would have allowed.) Again, this is something that makes no sense to many people. Jumping out of a perfectly good airplane sounds like fun to me, but this one will have to wait. This is something I don't want to do badly enough to go on my own; it would be more fun to share the experience with someone. I am also not sure about the idea of a tandem jump, I think I would rather spend the extra time (which unfortunately is also more money) to learn all the steps involved so I could go solo.
I'm not sure if it should really go on a bucket list, as it is a career goal, but I want to publish at least one novel. I would love to say an incredibly successful novel, or an award winning novel, or a best-selling novel, but I realize that those descriptors are at least partly up to chance. I have begun work on one and have more than 30,000 words to date. After completing much of it, I decided to take a different approach, but hope to have it ready to submit by the end of the year or early in 2017.
Someday I really want to take a few weeks and drive cross country. I want to take my time and stop and see the everyday things this wonderful country has to offer.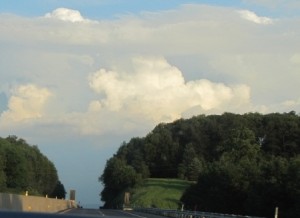 The United States offers a variety of terrain and culture and I want to experience as much of it as I can. I want to meet new people, try new foods, and see new things. Besides the obvious cost savings in driving, it would be possible to see much more by taking detours along the way. I would like to someday be able to say I have visited all 50 states. (I have already been to Hawaii; I can drive to the rest or make a trip to Alaska later. I hear Alaskan cruises are wonderful.)
There are another 13 brave bloggers who also took this challenge. Please click on the links below to see what they wrote about: