How to Minimize the Impact of Social Media on Self-Esteem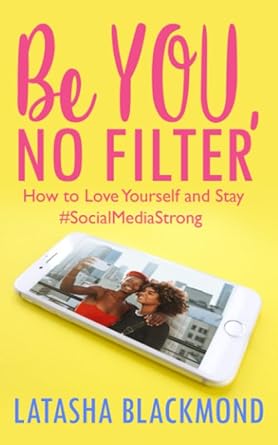 Be You, No Filter; How to Love Yourself and Stay #SocialMediaStrong by Latasha Blackmond is an inspiring and easy-to-digest guide to finding your true self and to setting and achieving goals. The author wrote this book to shares things with other women that she wishes someone shared with her when she was younger, things she had to figure out on her own. This is likely why the book reads like a conversation with a good friend.
The author focuses on social media, both the benefits and challenges. For better or worse, social media has become part of our everyday lives. These platforms allow us to see so much more of the world, but also bombard us with images of "perfect" people which can make us feel "less than."
The book presents a guide to reaching your goals and becoming your best self, even with the constant barrage of pressure from social media feeds. Yes, external factors have an impact on all of us, but the author asserts we can limit the amount of control they have through self-affirming thoughts and behaviors.
Blackmond explains how personal affirmations and practicing gratitude will help us reach our goals. She encourages readers to go deep to discover who they are and who they want to be. She admits it won't be easy; we will have setbacks and challenges, but she offers tips and techniques to push past them, such as:
Rather than ban social media, fill your social media feeds with people who will ultimately inspire you to reach your goals.
Push out of your comfort zone. She says, "When you're comfortable, you're not learning and growing."
Don't fear failure. And, "when you fail, fail fast so you can learn, grow, and gain more experience."
The book includes actionable steps and journal prompts that gently encourage readers to go deep and assess both where you are and where you want to be. Readers will gain personal insight and confidence in being their true selves where no filter is required.