The World of Children's Literature Lost a Legend, I Lost My Uncle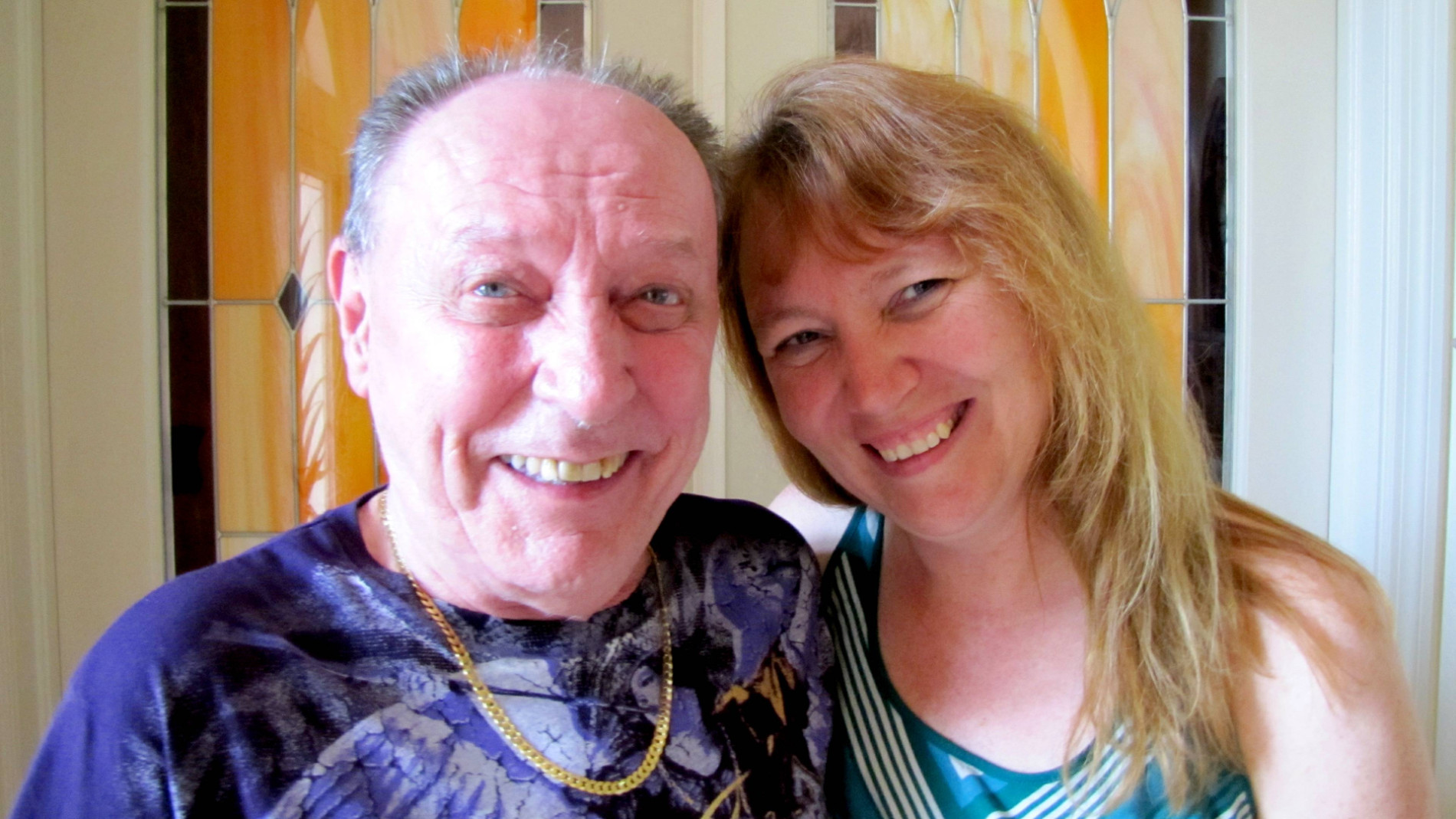 While most know Lee Bennett Hopkins as a legend in the world of children's poetry, to me he was much more. He was my uncle, my godfather, a huge part of my life growing up. He was funny and playful, he was opinionated and blunt, he was generous and usually kind. We didn't always agree, in fact we had "words" more than once, but I never doubted that he adored me (and the feeling was mutual). I know that those who knew him, as well as many in the world of children's poetry share my sorrow at his death.
He celebrated the day I was born and for the first few years of my life, was a regular visitor in our home, stopping by after work to see what new thing I had learned. When my dad's career took us several states away, he kept in touch via letters, many of which I am pleased to say recently came into my possession. He also visited as often as he could afford, bringing extra energy and laughter to our small household.
As years passed, I became the recipient of many books – I didn't have to visit the public library, my personal one had enough quality children's literature to keep me busy for hours. We moved back to the East Coast when I was seven, the perfect age to be introduced to new and exciting experiences. Uncle Lee took me to see my first Broadway show, "No No Nannette" and started an annual tradition. He took me to children's book conferences where I met some of my heroes – the authors of those books I devoured deep into each night. Together we explored some of New York City's treasures:  Central Park Zoo, the Cloisters, St. Frances Xavier Cabrini Shrine (where at age 8, I was fascinated yet intimidated at the thought a real woman was displayed in a glass box). Though he had seen all these before, he viewed them through my eyes and took delight in my excitement.
Each summer I spent a week at his condo overlooking the Hudson River. He spent part of these days working, while I spent time chatting with Uncle Misha, his partner of 40 plus years who passed away in 2002, hanging out with Matt (a neighbor around my age), or went through his library, selecting new-to-me books to read on the balcony or out by the pool. Each time I arrived, there was a stack of books specially chosen to match my interests, alongside another stack of books, all of which I was free to take home if I wished.
The week always included a trip into The City (New York will always be The City to me) to see a show and sometimes also a trip to Rye Playland. Though there were some rides he preferred to watch me experience, he was happy to join in the fun on others. The Ferris wheel was one of his favorites (though not mine and honestly I think that is his fault). I have always loved the carousel; so that was a "must ride" and he was more than willing to join me. As I write this, I can see his face, laughing as he rode a painted pony up and down alongside or behind me.
Perhaps my favorite amusement park memory was when my sister and I convinced him to go on the Rotor with us. For those not familiar, this ride is a circular room with carpeted sides. After the door closes, the room spins;  pushing riders against the walls. Then, the floor drops out while riders remain stuck to the walls. As the ride slows, everyone slowly drops to the floor. On this day, that's exactly what happened, to everyone but Uncle Lee. He was wearing corduroy pants, and while we all slid down, he remained six feet above us. Of course, everyone laughed and pointed. Though the situation was funny, it was the look on his face that was priceless. Today, I recognize the look as the same one my grandmother (his mother) also had when surprised: eyes large, mouth a gaping oval. He did exclaim, repeatedly "Oh, my goodness" (As an adult, I'm certain my exclamations would be different.) He did eventually slide down the wall to join us and we had an adventure for the memory banks to talk and laugh about later.
We are fortunate to have captured many family moments
Of course as an adult, our relationship changed. I got married, had kids and our visits were less frequent. The distance made in-person time more difficult. Yet we managed. When he established the Lee Bennett Hopkins Poetry Awards, the whole family was invited to accompany him to the ceremony. The first was held at the PA governor's mansion and was an incredible thing to be a part of.  Subsequent years, I was his guest and though I enjoyed the time at the ceremonies, chatting with the award winners and making new friends at the after parties, even better was having that one-on-one time with him alone afterwards to rehash it all.
The first Lee Bennett Hopkins Poetry Award went to Ashley Bryon for his book Sing to the Sun
In 2009, he was awarded the NCTE Excellence in Poetry for Children Award. As luck would have it, the conference that year was a short train ride away from me. I jumped at the chance to spend even an afternoon with him, despite the fact that some of that time would involve him speaking and I knew I'd have to share time with many others.
I first heard Uncle Lee speak when I was in high school. Up until then, though I knew what he did for a living, I didn't quite realize the impact he had. That day several decades ago, I saw him captivate a room, talking about one of my favorite things: books. I saw and heard the admiration from a group of librarians.
At NCTE, I saw another side. Somehow organizers managed to keep it from him, but person after person walked to the podium to explain the impact he made in their careers and even their lives. Sitting there with him, I couldn't have been prouder. Along with other attendees, I went home with a special edition of poems written in his honor. The short book, Dear One was named for the salutation in many of his emails. (I like several others, thought I was the only "Dear One.") Unfortunately, that was the last time I would have the opportunity to hear him speak publicly.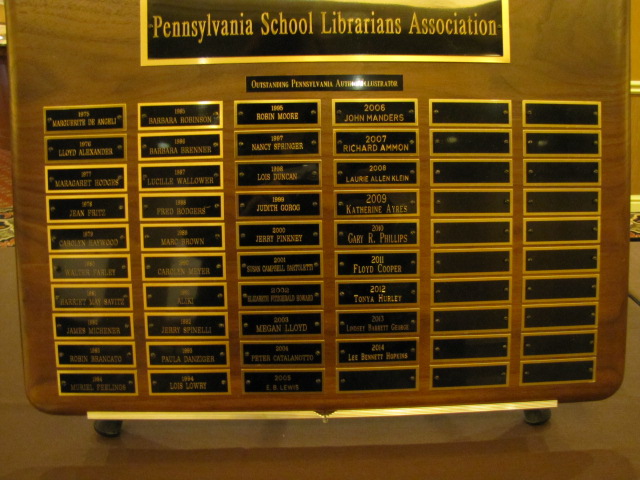 In May 2014, I traveled to Hershey, PA, where we had enjoyed so many Lee Bennett Hopkins Poetry Award celebrations, but this time he wouldn't be there. One afternoon he called to tell me he was going to be presented with the Pennsylvania School Librarians' Association Outstanding Pennsylvania Author award. Since he no longer traveled much, he wanted to know if I would be willing to go accept the award in his stead. Though I would have rather accompanied him, of course I agreed.  Though he hadn't heard of this award before, he was genuinely astounded and flattered at the company he would be joining.
After much consideration about what to say, I decided to share a bit about the man; everyone already knew about the legend. I shared how he fostered a love a books and therefore a love of learning.  I shared how we spent time doing fun things, how he encouraged me to write to a favorite author, resulting in years of correspondence.  I shared how I saw him, as a loving uncle, who happened to also be a famous writer. Though I considered closing as he would, with a reading of his poem, "Good Books, Good Times," instead I chose a line from my favorite among his books, Been to Yesterdays (which I was honored to have the opportunity to read pre-publication). This line is one that speaks to me more than others.
To
Make
This world
A whole lot
Brighter
When
I
Grow up
I'll
Be
A writer
Good bye, Uncle Lee, and God Bless. Thank you, for the Good Books, but especially for the Good Times.
(Hugs to Grandma and Uncle Misha.)
Just a sampling of the treasures entrusted to me…