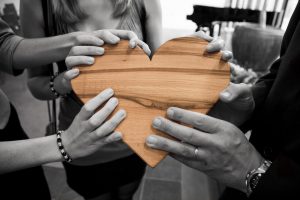 A year ago we could sense it coming. Though it looks very different than we anticipated, this has been the Year of the Women. It is very possible that what we are seeing today will be remembered in history books as a "revolution" of sorts.
Many expected to wake up the second Wednesday in November to news that the United States had elected its first female president. Some were shocked, confused and sad that this was not the case. However, that day did mark a big change: last year's presidential election started a movement, the like of which I have not seen in my lifetime. Women, long a significant force in numbers, made the collective decision to work together to make a difference.
The days following the election saw a flurry of activity. Plans were made to hold a Women's March to make a statement. Though not everyone had all the same goals, and many observers missed the point of these gatherings (that, as it turned out, occurred not just in the U.S. but around the world ), hundreds of thousands of women made it known that they would no longer sit idly by and watch bad decisions being made. Instead they determined to be a force of change.
Though the steps have been small, there are indications that some progress has been made. After decades of women standing up to discrimination and even assault, we are now seeing some changes. Proposed policies seen as anti-family have been blocked. More people are now believing women when they say they were mistreated. Predators are finally seeing repercussions for their actions. Things like the "casting couch" are longer seen as an acceptable method of conducting "business as usual."
More women have stepped up to say, "Enough." They are speaking up and refusing to accept the status quo any longer. There has been an almost imperceptible shift in attitude. I am seeing less tolerance of judging a person on their clothing or appearance. Discriminatory language is being called out and curtailed. Men in particular are starting to not only listen but also to join voices against discrimination.
This is different from other movements though, in that while the overriding issue is Women's Rights, there is a significant overlap with other issues. Perhaps this is due to a recognition that our lives overlap and intersect those of others. Women are fighting not just for themselves, but for those who cannot or who struggle to fight for themselves. In some cases, it is because women often bear the brunt of the effects,in others, it is simply the right, the human thing to do .
Hollywood also is starting to acknowledge the power of women. We are starting to see more women in major roles and they are delivering at the box office (Hello, Wonder Woman!). Women over the age of 30 today have lucrative acting careers. Women are starting their own companies and getting more involved in politics,  both financially (donating in record numbers this year) and through running for office.
This shift in society is subtle but promising. Like most significant change, it comes with upheaval. It requires a different way of thinking. Change is a constant in life. Society is always evolving. The world is very different than it was only a couple generations ago, yet in some ways very much the same. We are both more independent and interdependent than we have ever been before. Working together is our best option. It looks like women are leading the way.