Hacking Parenthood Is a Useful Handbook for Parents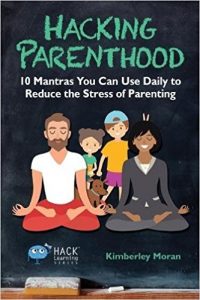 One of the really fun things about being a writer is meeting other writers and getting to read their work. Last month I got an advance copy of the book, Hacking Parenthood by Kimberley Moran. In this book, Moran offers helpful tips to make parenting easier and to help adults "stay calm and purposeful around kids."
Moran is a lover of mantras and has divided her book into 10 chapters, each focused on a single mantra. The mantras are intended to cut out "the stuff that doesn't really make you a better parent, and help you focus on what you need to do in each moment to move forward." She acknowledges that parenting is hard. In fact, she says "parenting will be the toughest job you ever have to do because it's always changing."
The mantras are simple and focus on understanding needs, building relationships and fostering independence. While there are no easy answers, solutions are sometimes simpler than we realize.
She advocates using a parenting journal which she calls a Parent Resource Notebook (PRN) to record thoughts, track progress and milestones and to reflect on them, causing parents to be more intentional rather than reactionary. Each chapter includes suggestions on how to use your notebook as well as helpful ways to deal with "helpful" family members, friends and even strangers who question your parenting. A section at the end of the book offers handy templates to help you get started.
The focus here is on the individual. While learning what milestones are typical at each age is helpful, these should be used as a guide.  All children learn and mature at different rates. The point is for them to make progress. Skills are mastered gradually and in many cases, mastering one is required before attempting another.  Moran points out that "we don't really think about all the processes involved in being a person, and that's why we parents get so mad when something that seems so easy to accomplish isn't being done." As parents, we are our children's first teachers, yet in many ways, we are learning as much as they are.
The book is an easy read (I completed it during a recent three-hour flight) and is designed to be used over time, "to assess your child within a situation, and then make a plan or use your intuition to help you and your child grow." Moran stresses that parents need to trust themselves and shut out some of the noise of the outside world. Judgement has no place in her process. There are no hard and fast rules. In fact, she promotes flexibility in parenting and advises parents to "let go" any part of the plan that simply doesn't work for them. In essence she has created what so many have asked for: an easy-to-use parenting manual to help get through the rough spots from when our children are young all the way through adulthood.
Note: Though a copy of this book was provided free of charge, no compensation was made for this review and the opinions are exclusively mine. KY