Looking Back and Forward, With My Favorite Person by My Side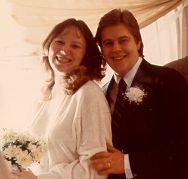 Life is very different today than that afternoon 28 years ago.
I look at the photos and am struck with not how young we were (though there is that) but how incredibly happy we were. Our faces showed incredible joy, hope, promise. We were right to feel this way, but we had no idea of how life would challenge us, what obstacles would be thrown in our path, how difficult things would sometimes get.
I remember looking into the eyes of the man I adore on that day and seeing complete confidence. There was not even the slightest indication that he was nervous or questioned this very big step we were taking. This fact terrified me. I had been certain that he was the one; that I wanted to spend the rest of my life with this man, but I hadn't realized that he was just as sure. The intensity of his gaze unnerved me a little. The conviction in his voice while committing to me, "Til death do us part," calmed me. We really were doing this.
Over the years the feeling of complete joy has not been there every day, but the happiness has been present overall. My husband has given me a lot. He has given me tangible gifts: diamonds, pearls, candy and flowers, but more importantly, so much more. We quickly went from newlyweds to parents and had all the joys and challenges that come along with it. After our second was born, I was gifted the chance to be a stay-at-home mom, something that I was clearly meant to be. For a while, he worked 50 and 60 hour weeks to make this work. Children three and four came along and he continued to provide. All the while he was doing this, he was still giving of himself.
He provided emotional support, through mommy melt-downs and personal disappointments. No matter what his other obligations were, he managed to find a way to be present for anything of importance to me. He has taken on responsibilities that no one else would or could and stepped in when he saw there was a need. He also has pushed me to be, well, better. I am the person I am, largely because of him.
More recently he has thrown his full support behind my dream: to actually make a living as a writer. He has been patient and encouraging and likely has no idea how very much that means to me.
The 28th anniversary may not seem like a milestone for most, but it is for us. This is the year that our lives are taking a turn and we are looking up an unknown path. Our kids are not quite on their own, but they are also not quite here. Where we are going is not yet determined, but I am happy that I know who I am going with. I look forward to the journey.