Skedaddle! – A Bedtime Story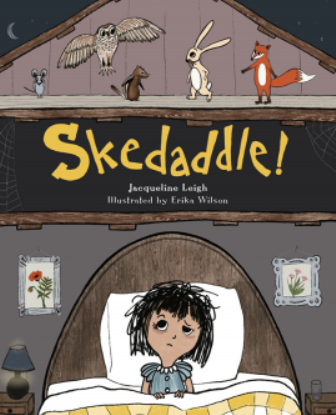 Skedaddle! by Jacqueline Leigh is an entertaining bedtime tale full of unexpected nighttime happenings when (so it is thought anyway) everyone is supposed to be asleep.
Noises coming from the ceiling above her bed are keeping Nellie awake. She discovers there is a chipmunk in the attic, one who simply won't pipe down. Though she tries everything she can think of to ignore the noise,  she still can't sleep. She decides the critter must Skedaddle!
A grumpy Nellie tries making chipmunk a bed, but he thinks it's a toy. She brings him snacks, but he invites his friends to share, leading to even more noise. When she exhausts all her ideas to make him skedaddle, and kindly asks him to "keep it down," chipmunk and friends comply. She returns to bed, but finds she still can't sleep. In a fun plot twist, she finds another solution.
This amusing picture book is sure to charm children and adults alike. It offers an explanation for random noises in the night and provides some entertaining thoughts on ways to deal with them. The reader gets two simple, yet subtle messages: if you want something, ask for it, directly and kindly; and sometimes getting your way is not what you really want.
The illustrations by Erika Wilson clearly show Nellie's changing emotions and are sure to prompt some giggles at the critters' obvious indifference to her attempts to get them to leave. Anyone who has been kept up by noises in the night (or a lack thereof) will relate to her struggle and understand her eventual solution to her dilemma.
Note: Though an advance digital copy of this book was provided free of charge, no compensation was made for this review and the opinions are exclusively mine.  KY