The Teddy Bears Picnic to the Rescue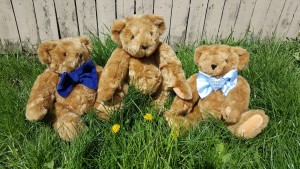 I just discovered that National Teddy Bear Picnic Day was this week. Though it is unclear when the holiday started, it is celebrated on July 10 and was likely inspired by the song "Teddy Bears Picnic" composed by American John Walter Bratton in 1907 with words added by Irish lyricist Jimmy Kennedy in 1932. It has been recorded by multiple artists and was the subject of a short film in 1989.
The song talks of a trip to the woods where "every bear that ever there was" has gathered for a picnic and paints a picture of teddy bears frolicking without a care. This celebratory day apparently is intended to encourage families to go outside and have a picnic with their favorite stuffed friends (though the song does warn children to "not go alone.") Many nature centers have embraced the concept and planned educational programs around bears while enjoying the outdoors.
I have a special fondness for this song though I never heard of it before becoming a mom. One of the many gifts we received was a brown teddy bear with a wind-up music box built in. Thanks to my mother-in-law, I learned the song it played was the "Teddy Bear's Picnic." We thought the bear was cute and it had its place in the nursery.
One night, in a fit of desperation (every new parent has a tale to tell about nights of desperation), I wound up the bear, hoping it would soothe the cranky being who had taken over my cherubic child. To my delight, it did. Then the music stopped and the howling once again began. I wound it again, and again, and again. Obviously, this was not a long-term solution.
My husband, the engineer, came up with the solution. He wound the bear and recorded the music onto a 90-minute cassette (for those of you too young to remember these, Google it to see what you missed out on).  He then repeated the process (he may have recorded the recording at one point, but that's not really relevant to the story), until the tape was full, on both sides. To maximize our peace, he recorded a second tape so that we could run one after the other (we had a cutting edge player that held two tapes and could be set to automatically start the second when the first ended). If necessary, we could quickly flip the tapes and play the other side (again, just Google it).
This was our baby calming miracle. The cassette player and tapes went with us when we traveled and was part of the necessary gear when baby spent an overnight at Grandma and Grandpa's. Unfortunately, this only worked with the first child; the others had no interest in this music.
Years later, we discovered the song had words when we discovered the band Trout Fishing in America who perform a less lullaby-ish version on their album Big Trouble. So now (as is often the case when an album that both children and parents enjoy is discovered), we all know what the words are and can sing along.
22 of #52essays2017