You'll Go and You'll Like It!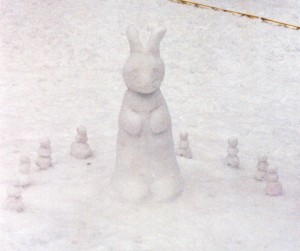 Families are busy. Sometimes too much so. We get caught up in our schedules and are constantly moving from one activity to another. Those of us with more than one child sometimes find that we have to split up so each child has a parent to drive to and attend their events.
One year I decided I had enough. I learned of an event near our family's vacation house and decreed that that weekend would be a family weekend. No other activities would be scheduled. We were going to the mountains and having some fun family time. (Note: there was no television or internet at the mountain house and it had only a landline to communicate with the outside world. We were getting AWAY.)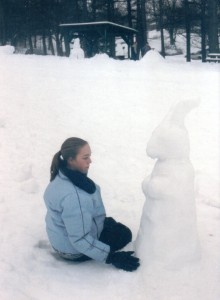 The local paper told us there was a winter festival nearby that included dog sled races and a snow sculpture contest. We bundled up and headed out. We signed up to participate in the snow sculpture contest and though we had no plan, we started creating. We ended up with a five foot rabbit and (since the oldest had taken charge and not everyone's attention was completely held creating this) a number of small snowmen surrounding it. A cannon was carved out of a nearby snowbank, making it appear that the snowmen were guarding the rabbit.
Our entry complete, we walked around and were amazed at some of the other sculptures that were only in beginning stages when we arrived. We were a bit sheepish that we had the idea that we could enter such a competition at all. Out on the frozen lake was a life-sized bear, holding a fish in its mouth. Several spots away from us, a young man created a small dog, sitting happily watching passers-by. It was obvious that most of the other people had planned ahead, some brought special tools and paint to add color to their sculptures. Some, we were sure, must have been professional artists.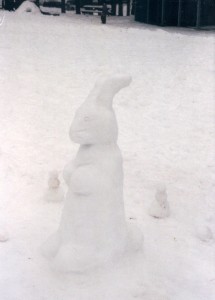 We watched as the dogsled racers came in and the kids were granted permission to pet the dogs. Next up was a snowshoe race and a tubing race. Our kids had fun pulling each other over the snow on inflated tubes with the rope tied about their waist., falling laughing at the end.
At the conclusion of the day, we were very surprised to learn that our family had earned an honorable mention in the competition. We were awarded a collection of travel mugs and got our name in the local paper. After returning back to the house, the kids wanted to play out in the snow and practice for next year's competition. Our dog, who was unable to join us at the festival, got in on the fun as well, but didn't quite understand the concept of pulling them on the snow tube. They built snow figures and pulled each other around on the tube until they were all tired out (even the dog) and it was nearly dark.
Though the two and half-hour car ride there Friday night had a sullen teen in the backseat, the ride home on Sunday was full of excited chatter about what next year would bring.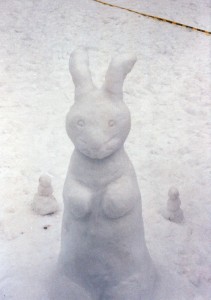 11 of #52essays2017
Save