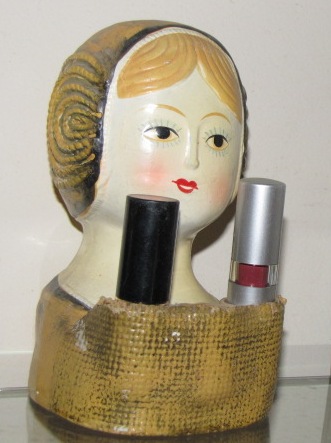 Note:    I wrote this piece 16 years ago, in 1997. Grandma passed away in September 2002. Her birthday was this week, and while working on something else,  I was reminded of this piece.  (I haven't looked at it for years.) It didn't seem right to edit it to bring the story up to date, so I have left it as it was.
"Go through the house and tell me what you want," my mother said.  "The rest is going to the Salvation Army."
We were cleaning out Grandma's house.  She had some expensive items, such as stained glass lamps and craft show items given to her as gifts, and some antiques that were my grandfather's (her late third husband, whom I was blessed to know for almost 20 years).  These were nice to have, but these really weren't Grandma's.  She was the "Woolworth's Queen."  Grandma was never rich, but always spent her money freely on us.  Stuff for herself usually came from Woolworth's Department store, or more recently, the Dollar Store or Wal-Mart.  Every other store was too expensive.  Grandma was a collector – she collected unique salt and pepper shakers and everyday things like dish towels and throw rugs.  She seemed to never have enough.  Perhaps this was a result of being the oldest child of five during the depression and growing up poor, and then struggling to raise three as a single mother in the fifties.
She was a collector, but also gave many things away.  She always had time for a "Hard Luck Harry" and would open her home and wallet.  Trick-or-treaters got timestakingly-assembled bags of candy, and when she ran out, rolls of coins.  Every Christmas season, she would unpack her boxes of decorations and offer me Christmas dishtowels, of which I would end up with two or three.  Every year she bought more.  This was her biggest decorating season, although her house was decorated all year.  Christmas was replaced with Valentine's Day, then St. Patrick's Day, Easter, Memorial Day, Fourth of July, Labor Day, Halloween, Thanksgiving, then back to Christmas. When meeting someone from her old town, all you had to say is the house with the decorations and they knew exactly where she had lived.  She offered tours at Christmas, and usually sent guests off with a souvenir. Children certainly went home with candy, money or both.
Sorting through her stuff was strange. The vast quantities were overwhelming, and the "good stuff" was randomly interspersed with dollar store items.  I'm sure we let some treasures go during one of the many yard sales, or one of the many visits to the Salvation Army store.  This final trip through the house was by far the most difficult. You see, Grandma is still with us, at least physically.  Alzheimer's has robbed her, and us, of her life.  After she was diagnosed, she moved in with my parents, who shortly thereafter moved to Florida. Now, the house was sold, and Mom and I spent several painful hours in the attic sorting through Grandma's prized Christmas decorations.
Your typical decorations were there, cardboard cut-outs, lights, garland, plastic lawn figures, some in good condition, others ripped and broken, which we threw out. Then there were the special things – my grandfather's Christmas stocking with his name hand-embroidered, Grandma's apron, some borderline-tacky decorations I remembered from my childhood.  These things gave us pause, and my mother kept saying, "She would never let us do this if she weren't sick."
After I packed the car, Mom told me to take another walk through the house to see if there was anything else I wanted. I went home in tears, thinking about what has happened to Grandma and also about how this would likely be the last time I would see her.  She wasn't eating and Florida was so far from Pennsylvania.  During the ride home, I realized there were a couple more items I wanted.  I knew Mom (and my husband when he saw it) would likely think me nuts, but one of these was a lady's head – a lipstick holder – that Grandma had kept in the bathroom for as long as I could remember.  Certainly not something I would call attractive or even useful. The other was a set of three glass perfume decanters she had always kept on her dresser (I thought these would be nice for my three daughters to have down the road).
I arrived home and again started to cry.  Almost every room in my house has something that belonged to Grandma – furniture, lamps or some little knickknack.  She had always given me things, weeding out her possessions, making room for more, but the items in my car she would never have parted with — even if I had asked.
This experience has caused my mom to streamline even more than usual.  When they moved south, she got rid of many things she had been holding onto for merely sentimental reasons. This cut down on moving expenses, but was done mostly to spare my sister and I from having to clean out her house and make difficult decisions about what to do with everything.  Mom says I've got the "pack rat gene."  I prefer to think of it as preserving history. I have at least one child who shares my love of old things, valuable or not, and she is the one who continually prompts my forays into family history with new questions. Unlike many of my elusive ancestors, an anthropologist would have no problem reconstructing my life.
I have been fortunate to see Grandma a few times since the move three years ago. She is now living in a nursing home, the disease having progressed too far for my parents to care for her themselves. Though she doesn't always know who I am, I enjoy my visits and treasure them as I do the constant reminders of her love around my home. Thanks, Grandma, for everything — especially that pack rat gene.