The Surprising Secrets No One Tells You About Beauty Pageants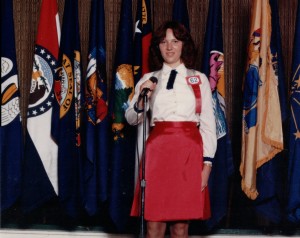 When I was 15, I was a contestant in the Miss New Jersey United Teenager competition. The year prior, my best friend had participated in the pageant and I had gone to watch. Though for the most part, the contestants were kept separate from the other hotel patrons, I got to spend a little time with her over the weekend and saw that she was having a great time. On the night of the competition, she had the misfortune to find that the zipper on her evening gown had broken. In defiance of the competitive reputation of these events, she was loaned a gown by someone who had brought an extra, forever changing my opinion on the mindset of pageant contestants. In her exit paperwork, she recommended me as a contestant for the following year (yes, this is how many teen pageants work, knowing someone gets you in the door).
This revelation is likely a surprise to many who know me. Though I have always had a fondness for makeup and have certainly purchased my share of it, I rarely use much of it. I have never spent the time and money for an "up-do" and only once in my life spent any significant time on my hair, which actually meant I then spent more time un-doing what I had spent an hour working on and finally settled on a rather simple style that should have taken no more than 15 minutes. (Even for my wedding, I simply curled it and left it loose.)
Preparation for the competition included shopping for a gown. At one store, my mom was aghast at the revealing options (almost all had plunging necklines and strategically-placed cut-outs); responding to the salesgirl's selection with, "Oh, this is a pure, all-American girl pageant." (Love you, Mom.) Though it was a challenge, we eventually found one that was acceptable, which coincidentally was the same dress my friend had purchased the year before. (We knew to have the zipper replaced to avoid having the same bad luck she had.) I also needed a red A line skirt and white blouse. None were to be found, so off we went to the fabric store and to a seamstress who measured me and created the only custom-fit garment I have ever owned. Not knowing anything about fashion, the fabric we chose was a silky, shiny one that snagged rather easily and stood out from the more appropriate ones chosen by the other girls.
The pageant itself occurred over several days. We spent two days learning a flag routine (my friend had taught me this the year before, so I had an advantage here), being interviewed and learning where and how to stand (arms at sides, palms facing our bodies) and how to walk and turn for the evening gown portion. At scheduled times, we also had personal interviews and recited an essay we each had to write and memorize on the topic "What America Means to Me." During a full run-through rehearsal, I was fortunate to be chosen as not only a semifinalist, but also as Miss Congeniality. (These were honors that escaped me for the actual pageant.)
We were rewarded that night for our hard work with Big Macs and fries (so much for the starving beauty contestant stereotype). We ate sitting on the floor in the hall; the chatter was lively and constant as some girls not-so-subtlety campaigned for Miss Congeniality (which was voted on by all of us) while others compared notes on hometowns, schools and activities. As wrappers gathered around us, the chaperones moved in to herd us to our rooms for the night so that we could settle in before the nightly room check and lights out.
Though the pageant results were not a repeat of rehearsal, I didn't go home empty handed. One of the requirements for competition was to have engaged in a certain amount of community service. I had been a longtime volunteer for an animal adoption agency, and had a strong letter attesting to my dedication and time spent, so I was awarded the Volunteer Service Award, giving me my 15 seconds of fame at the pageant to accept my rather large trophy.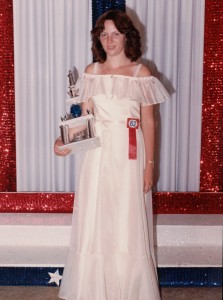 Though at times I would sense the pressure of competition (for some of the girls, this was their last chance before they aged out) there was also a true sense of camaraderie. We were assigned rooms and spots alphabetically, so naturally with almost 70 of us, we spent more time with those having last names that fell near our own.
I made a friend who took everything about as seriously as I did (that is to say, not very). We agreed that it would be nice to be selected, but knew that it had no impact on our worth as human beings. Since her roommate was too emotional to stay, she left immediately after the pageant and I moved into her room for the final night.  My new friend and I chatted late into the night, resulting in sleeping through our wake up call and the entire final event, the post-pageant breakfast.
Obviously, I entered into this not expecting to be crowned Miss NJ, but it was a great experience. I got a glimpse of the backstory of the beauty pageant world and one of my first early tastes of independence. There were strict rules about talking to boys (not allowed) and curfew (chaperones checked to make sure we were in our rooms).  We had a busy schedule and we were expected to show up on time.
I did note the presence of some expected stereotypes: there were a few divas, many girls wearing way too much makeup, some with eating disorders, and a few you wouldn't want to turn your back on, but there were also plenty of all-American girls, highly intelligent young women enjoying the chance to dress up and be social. It surprised me to realize how many girls were repeat contestants and just how badly they coveted the title. Of course I knew that scholarship dollars were at stake, as well as the possibility of modeling and acting jobs, but I realized that the odds were really against us all, that the judging criteria were at least somewhat subjective and that having a bad day, or even a bad moment would end any chance of being one of the last girls onstage. Would I do it again? I think, probably yes.
7 of #52essays2017