Welcome to the Jungle of Motherhood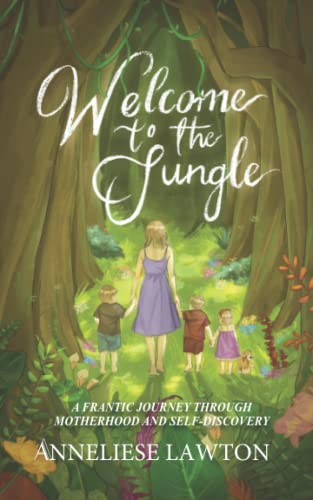 Though I am closer to being a grandmother than a new mother, I found much to relate to in Welcome to the Jungle. In this engaging memoir, Anneliese Lawton shares her experiences as a wife and mother through high-risk pregnancies, health scares and postpartum depression. The author is honest, funny and refreshingly blunt in revealing truths that many don't talk about:  Marriage is hard. Motherhood is hard. These new roles cause most women to struggle with their identity.
While the target audience for this book is millennial women, as a Gen Xer, I am impressed with Lawton's openness and wish someone had been brave enough to write such a book a generation ago. While it appears things have not changed as much as we might like, I marvel at this generation of feisty moms who seem to have figured out, long before middle age, that being REAL is healthy. Lawton speaks openly and honestly about life challenges, allowing herself to be vulnerable while assuring others that none of us really has it all together.
In talking about motherhood, marriage, and mental health in today's world, Lawton shows the struggles unique to millennial moms who grew up in a post-feminist movement world; one that claims to be inclusive and fair but isn't quite there yet. It may come as a surprise to GenX readers that perhaps even more than their own mothers, today's young moms are struggling – they still feel like they can and should do it all and feel that doing less is failure.
Lawton is critical of a society that expects mothers to put everyone else's needs above their own, then criticizes a woman when she breaks. Despite the strides women have made in the past fifty years, it's a sad commentary that woman are still expected to "look put together more … do a little nap-time hustle to help pay for the family vacation," all while "having sex more, and dancing with our kids more, and laughing more, and simply being more." She proclaims, "Balance is bulls@!t."
She goes on to give some excellent life advice: Asking for help is necessary, if not for yourself, for your children and your marriage. "It takes a village," she says." But the village doesn't work unless you say 'yes.' As much as the village can see you struggling and exhausted and deserving of a nap, they can't force their way into your home."
While everyone's experiences are different ( for example, not every couple starts a family right after marriage — what Lawton refers to as having "signed up for the stressful as f@*k starter pack"), there is something in this book that all moms will relate to. You will time travel to the days after bringing baby home, which "was like a tourist attraction for weeks" with family and friends showing up to see the little star attraction, while mom grew to feel more and more invisible. You will remember how your relationship with your spouse changed after becoming a parent. And you'll nod along (and maybe chuckle) as you're reminded that little about raising children is what you expected when you were childless; the mom you become rarely measures up the image of the mom you thought you'd be. Lawton seems to fully embrace these truths, with a warning for parents-to-be: "If you have nice things, expect there to be boogers on them."
Note: An advance copy of this book was provided free of charge, but no compensation was made for this review. It is the honest opinion of the writer. KY