Oh to Be a Fly on the Wall, and On the Boat, and On the Plane
Have you ever considered what people might think if they saw what goes on behind-the-scenes at your house? Do you ever wonder what it would be like to catch a glimpse of someone else's daily life?
Fly on the Wall is a monthly post by a group of bloggers challenged to let our readers see what it might be like to be a fly on the wall in our homes. Each post is not a single story, but a compilation of snippets, each one its own quote or event or conversation (or disaster) strung together to provide a behind-the-scenes glimpse into our lives. Today you can be a fly on the wall in 9 places at once!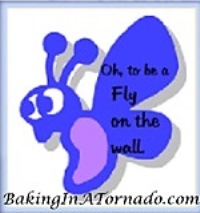 I just got home from a visit with family in Florida which involved seeing many people who are all very different. Since we live rather far from each other, we try to cram as much together time as possible in (which meant late nights talking, or should I say early mornings). Over the course of a week, I ate too much, slept too little, heard new (to me) family stories and laughed a great deal.
Though I enjoy flying, it is an indulgence I rarely have the occasion to enjoy. My favorite part is taking off, where memories flood back of trips with my grandmother. I find myself enthralled with the experience and wonder if the novelty would wear off if this were to become a regular mode of travel for me. I realized on my return flight that it never did for Grandma. For several years, she and I took an annual trip to visit my aunt, uncle and cousin, and each time she noted the takeoff with an exclamation of joy and anticipation.
Looking out the window, I noticed (as I have before) the words painted on the wing, "Do not walk outside this area." This made me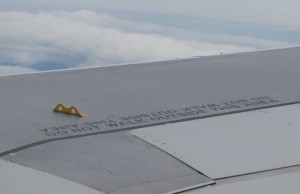 smile, not because it seems ridiculous to want to do so, but because of stories from my family history. My great, great uncle was a wing walker (among other fantastical ventures) and walked on the wings, while the plane was flying! He apparently had an issue with staying on the ground, as he also climbed skyscrapers (without ropes) and walked in parades and around town on stilts. He and his wife had a full life and it seems there are always new things to learn about them. This trip, while going through old photos, I learned that they also owned a luncheonette in Newark, N.J. in the 1950s. Though I never met Uncle Phil, I have fond memories of his wife, Aunt Betty whom I had the good fortune to spend time with as a child.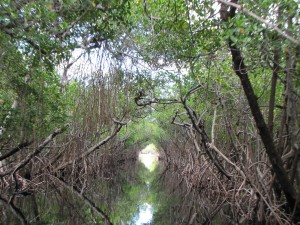 While in Florida, my parents treated us to an airboat ride in the Everglades (a first for me). Our captain was friendly and warned us that the front seats get wet (of course the men then opted for the rear ones) since the boat does not have brakes and stops only when he takes a 180. There were reports that day of an alligator and a manatee out in the mangroves, so we were off to find them. I was impressed by how quickly a boat could move in what was said to be only a few feet of water (which appeared to be true in the moments we stopped – the water was clear enough to see the rocky bottom) and enjoyed the ride. We made a couple stops where the captain gave us some background and told stories.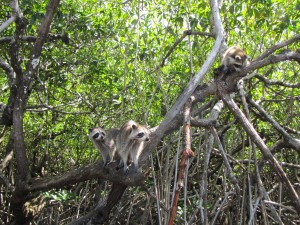 One stop was in Alligator Bay, where we saw several raccoons who were obviously accustomed to getting handouts as they came very close, almost climbing into the boat. (The captain pushed us away, saying they had climbed in once before.) We did get to see an alligator and were about to head out when the captain of another boat called out, asking if we had gas. I found this amusing, thinking he was joking,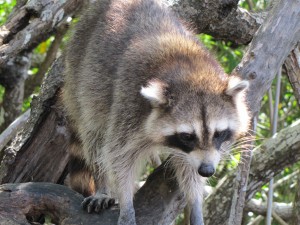 trying to alarm his passengers, but no, he was serious. Another boat pulled up as our captain was trying to find a way to siphon some gas into a jug and he had more luck, so we were off again. Though I enjoyed the trip, the idea of spending time trapped in the Everglades, especially after dark, was not at all appealing to me. I would love to have been a fly on the wall on that boat!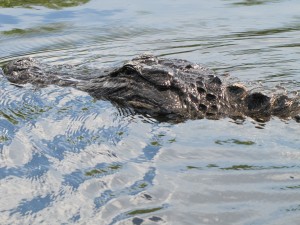 The time spent with family was much too short, but we enjoyed the time we had. My nephew found my husband a willing participant in a singalong involving "sticky, sticky waffles," where they both got to show off an impressive British accent. (I wish I had taken video of that!) On this trip I also got to meet my dad's cousin and his wife who were in town for the weekend. We enjoying listening to him and my dad reminisce and share stories of their youth. (Unlike many cousins today, they grew up in the same town.) It is always interesting to see how differently people remember the same story. They were surprised that each found their own father (the other's uncle) to be stricter than the other. Stories were shared (some that their parents were never to know) and many laughs were had. The time went too quickly and we were back on a plane, headed home.
There are more stories to read. Buzz around these posts, see what you think:
Save
Save
Save
Save